Dealing with irate customers? Increase in negative interactions?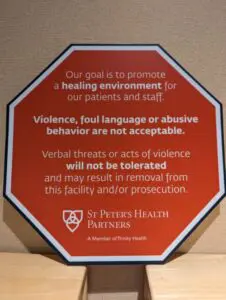 We've noticed signage, like the one pictured, popping up lately in more doctors' offices and stores discouraging poor behavior with customer service representatives. A lot of businesses are doing their best to cut those interactions off before they even start. This is the smartest thing they could do, because according to Forbes, poor customer service is costing businesses more than $75 billion a year. Whatever products or services your organization provides is still tantamount to your success, but there are things you can do to strengthen your customer service game.
Prioritize the Mobile Customer Experience
In the age of the smartphone, they act as tiny little computers that we take with us everywhere. If your organization presents themselves poorly in a customer's mobile experience, it could seriously damage their opinion of your business overall. According to Statista, 59% of all internet traffic comes from mobile phones. Steps you can take include, optimizing your website for mobile (decreasing load times, increase searchability) and include self-service options there and on social media.
Speed Is Everything
It should be no shock to you that customers demand immediate attention. It's the top expectation of CX journeys everywhere, even though the average response time for customer service emails is 12 hours. Whether it's email, calls, or social media, you need to have a clear response plan that includes technology to aid your representatives in their response time. This can look like AI's handling frequently asked questions or CX portals that supply responses to representatives. This means shorter or no hold times and happier customers.
Offer Self-Service Where You Can
One of the easiest ways to increase the speed of customer interactions and keep customer sentiment positive, is offer as many self-service options as you possibly can. The easiest and most cost-effective option is to create resources on your website that people can search to find answers they need. Another option to keep CSR's phone line's clear for tougher problems is a chatbot. You can pre-load it with all your frequently asked questions (and more!) and it'll converse with natural language. Afterall, 67% of customers prefer self-service over speaking to a representative.
Let us help! Contact us here.